Clever Word Press You Tube Plugin
Image Quality Comparison
In the below image, notice the poor quality of the YouTube thumbnail, versus the original uploaded thumbnail image. The quality is low, because YouTube downsamples your image, immediately after you upload it. But, the Clever YouTube Plugin is great because it allows you to place the original (High-Quality) image atop your video. (So you don't have to use YouTube's poor-quality version anymore!)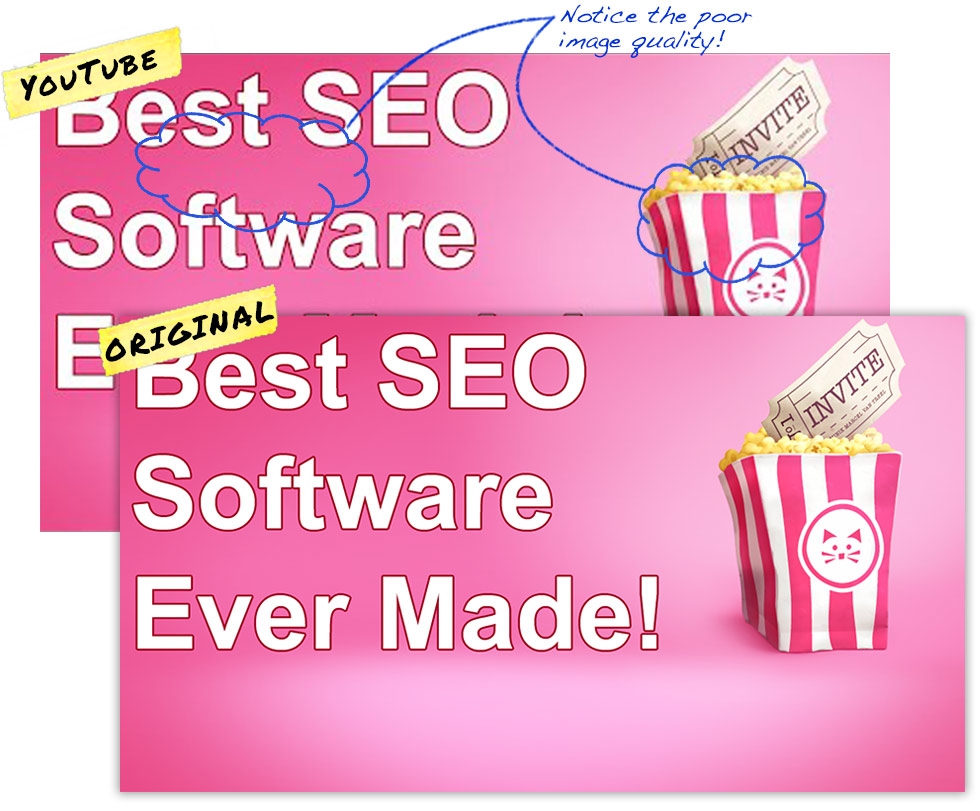 In the next image below, we're showing four Video Resolution settings: 144p, 240p, 360p, and 480p. Notice how the bottom video screen grab is much better than the first one. This is because the bottom video is at a 480p quality setting. With the Clever YouTube Plugin, you can specify your video's quality setting and take control of your video quality!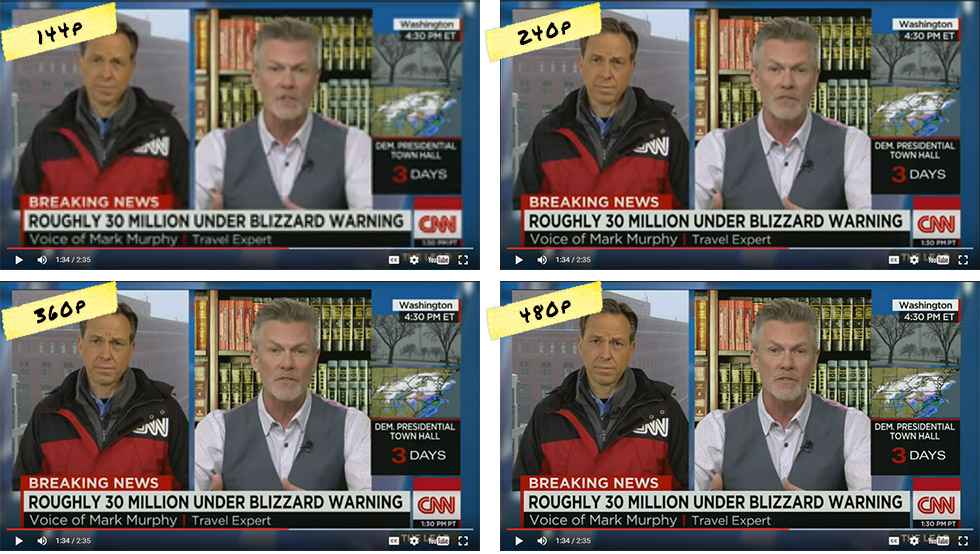 List of Instructional Videos
| | |
| --- | --- |
| | Video 1: In this video, we'll discuss the three major types of online web video content: "Talking Head videos," "Over-the-shoulder Walkthrough videos," and "Scripted Demonstration videos." And we'll briefly talk about the particulars of each type. |
| | Video 2: In this video, we'll discuss "pro audio" and how you can setup your home computer, to start recording at near-professional levels. Then we'll go over some tips on hiring real voice artists for very cheap. |
| | Video 3: In this video, we'll discuss the most common problem in web video–incorrect recording resolution. And talk about the "nuts and bolts" of Youtube. We'll discuss how to render video, and how you can take control of the YouTube API and display beautiful videos on your website–at the maximum resolution and playback quality. |
| | Video 4: In this video, we'll go through the process of properly setting up your computer and screen-recording software–for the creation of over-the-shoulder walkthrough videos. And, we'll critique some existing online videos, and discuss the mistakes that the original video authors made in the video production. |
| | Video 5: In this video, we'll talk about how to "sketch up" your script and storyboard. And then we'll do a live script read. And, we'll edit our audio with Audacity. Then, we'll show you how to 'master' audio with the free web app at Auphonic.com. |
| | Video 6: In this video, we'll discuss movie creation using slideshow apps like Microsoft PowerPoint, And, we'll record an example of a simple animation–using the free paint program Pixlr. We'll also talk about how high-resolution videos can be created and posted to your website (for free) if you know a few YouTube tricks. |
| | Video 7: In this video, we'll gather up our media clips from our sample movie, and show you how to easily edit them together in a couple widely used Video Editing programs. |
| | Video 8: In this video, we'll talk about the correct way to post your video to YouTube. And, how to create a properly SEO-compliant video description–that will help your video content get noticed. |
CLICK HERE TO LEARN EVEN MORE !